About Us
Welcome to Wilson's Mobile Home & RV Parts
One of the largest manufactured home supply stores in West Michigan
Quality Products at a Great Value
At Wilson's, we are known for offering quality products for your manufactured home or RV. We have what you need and are proud to offer all the "hard to find" sizes IN STOCK!
Our Company – Family Owned with Pride
Wilson's was opened in 1996 by the Wilson family. In 2018, the Wilson's retired and sold the business to one of their longtime customers, Max and Katie of Cedar Springs. Since then, a lot has changed but one thing remains the same – Wilson's carries all the same great quality supplies. Wilson's has now expanded the inventory to ensure that customers can find everything they need. Since taking over the business in 2018, Max and Katie have enjoyed creating a showroom that is welcoming and allows customers a space to shop and imagine.
Experience, Knowledge and Creativity
Max has been in the manufactured home industry since 1997. He has done all service/repair, transport and install/set-up work for manufactured homes. Max takes great pride in his work and is eager to share the knowledge that he has obtained over the years.
Katie started out in the medical field but has always enjoyed home remodeling and updating projects. Katie has a keen eye for decorating and details, she loves modern and trending products. You can count on Katie and her team to guide you with product selection as you create your space or work through your project.
Together, Max, Katie and their team have created a store to accommodate all the home improvement needs you may have. They have enjoyed meeting long-time returning customers and look forward to meeting and building relationships with new customers in the years to come.
Delivery Options
Need supplies but do not have a way to transport the larger items? No worries Wilson's offers the option for delivery.
Open to Everyone
We're open to the public and welcome contractors to come and explore; we are sure you will find what you need.

Working on a remodel or repair project? We have what you need!
Doors
Exterior inswing with storm door
Exterior out swing
Interior
Hardware for doors
Windows
Vinyl
Aluminum
Storm
Bathroom
Fiberglass Bathtubs
Walk-in showers that replace the bathtubs
Bathroom vanities
Kitchen
Cabinets
Countertops
Islands
More
Paneling
Baseboard, trim, molding
Plumbing and electrical supplies
Furnaces
Water Heaters
Roofing (roof over systems and roof coating).
Relocating or setting up a new home? We have set up supplies!
Xi2's
Tiedowns
Steps/Stairs
Skirting
Siding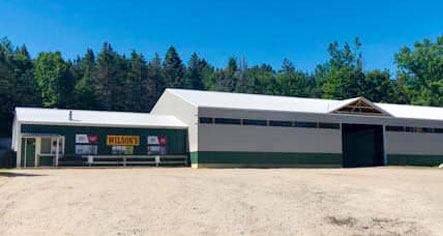 From Grand Rapids to Big Rapids and Beyond
Wilson's is located about 45 minutes north of the Grand Rapids area, but we happily serve customers from across the state of Michigan. Come visit our Howard City store and check out our new warehouse addition and expanded inventory.